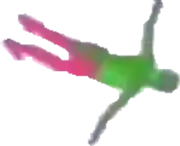 In The Graffiti Logo From 1989, Y Is The Guy That Turns Into The Y In The Logo. Tie Guy Has Brought Him Into His UpComming Fan Series With Wakecrow.
Y Isn't Well Known, But His Logo Is. Tie Guy Decided To Make Him In Unofficial Character. Splaat,Wakecrow,And Digital are His Best Freinds.
What Y does
Edit
He Can Turn Into The Y At The End Of Klasky And Change Into A Dark Yellow Color. It Is Not Yet Known What Else He Can Do.